Introducing the Buypower Gift Page!
What is love? It isn't just a display of romantic poetry, love letters and 101 messages. Sure those are cute as well, but showing your friends and family that you love them also means stepping in when they need you the most.
Fresh out of the bakery of our product and engineering team, comes the first-ever electricity gift page in Nigeria!
What is the Buypower Gift Page?
The Buypower gift page is a Buypower product that allows you to gift electricity units to anyone in Nigeria. With just their meter number, phone number and location, you can send electricity units along with a customized note to your loved ones. The beauty of this type of gift is that you can send it from the comfort of your home without having to deal with vendors, dispatch riders or traffic.
Plus it's the perfect practical gift for your loved one. It's suitable for a spouse, friend, parent, or colleague. It's also perfect for all seasons and occasions; birthdays, anniversaries, weddings, valentine's, Christmas or just as a random surprise gift.
Why a Gift Page?
Due to the removal of tariff subsidy, the cost of electricity units has become a lot more expensive than it used to be. This means that the burden of paying for utilities has doubled.
Over this period of time, we've noticed an increasing interest in the need for a gift page just for electricity. Still, doubting? Here's what our customers had to say.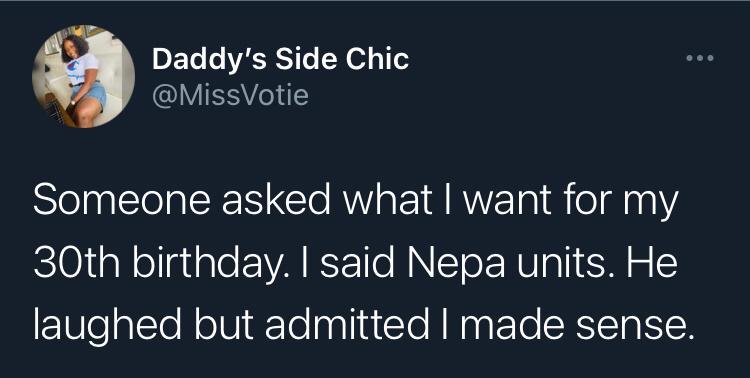 How to Use the Buypower Gift Page
Ready to gift your first electricity package? These are the simple steps you will take to send electricity to a loved one.
Log on to gift.buypower.ng
Enter your phone number, name and email.
Select the receiver's state, enter the receiver's meter number and the amount you want to send.
Confirm that the address of the receiver is correct before proceeding to enter the receiver's name, phone number, email. Once this is complete,  write a custom message to make your present extra special.
Enter payment details and click on pay. The electricity token and custom message will be sent to both you and your receiver.
And it's that simple!
Do you have someone you can't get out of your mind? Maybe it's time to surprise them with a little something. Gift them electricity units today.