Your Guide to Downloading and Using the BuyPower Mobile App
I know you love using the BuyPower website (www.buypower.ng) to make your utility bill payments. And change might be a little unnecessary sometimes. But at BuyPower, we always look for the next step towards convenience. That's why we created a mobile app that can make your transactions even more seamless.
In this post, you'll learn the difference between the app and the website, how to download the BuyPower Mobile App and how you can use it for payments amongst other functions.
Why Should I Choose the Buypower Mobile App?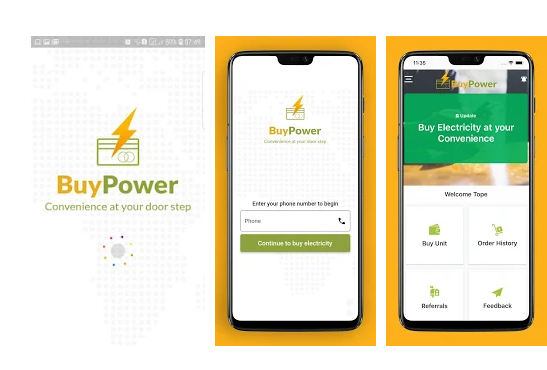 With a mobile app, you do not need to access your browser to carry out electricity bill payments. You have swift, one-tap access to paying your bills.
Asides from the convenience Buypower Mobile app offers, there are other features that are only accessible when you use the app. Here are some of these features you'll be needing;
1. Notifications: Whenever there's an update on any of our features or in the utility sector, you'll get an immediate notification about it. So when you use the app, you're always going to get our news first.
2. Reminders: Time is precious. Sometimes you're so busy working and taking care of your family that tiny details like checking your meter balance skips your mind. With the app, you can set a reminder to top up your meter or pay your electricity bills on a particular day of your choice.
3. Meter Consumption History: Do you like unraveling patterns and observations? With this feature, you can track all your transactions and how you've consumed electricity in the past. You'll be able to decipher if your consumption rate is increasing or reducing.
4. PDF Receipts: Using the website, you can see your transaction history. What if I told you that you can save these receipts as a PDF? On the app, you can choose to save your BuyPower receipts as a PDF or print them out. You'll never be stuck when you need a utility bill again.
How to Download the Buypower Mobile App
Now that you know what you've been missing out on, you just have to download the app. The BuyPower Mobile app is available for both Android and iOS which means everyone can use it.
Buypower Mobile App for Android
Simply visit Google Play Store
Tap on the search icon on top of your screen and type "Buypower"
Select the first app on the search results
Tap 'INSTALL'
Once the installation is complete, tap 'OPEN'
Or alternatively, click this link to go directly to the app on Google Play Store.
Proceed to enjoy utility payments by making a purchase using the app.
Buypower Mobile App for iOS
Visit the App Store
Tap on the search icon on the bottom of your screen and search for "BuyPower"
Select 'GET' on the first result displayed
Once the installation is complete, tap on "OPEN"
Or alternatively, click this link to go directly to the app on the iOS App Store.
Proceed to enjoy utility payments by making a purchase using the app.
How to Recharge Your Meter Using the Buypower Mobile App
Paying for your electricity online using the mobile app has never been easier.
Open the BuyPower Mobile App on your device
Create an account or Login using your phone number and a password.
Click on "Continue to Buy Electricity"
Tap "Buy Units"
Fill in your details by selecting Your location, entering your meter number and the amount you want to purchase for.
Click on "continue to payment information"
Review your order and click on "PAY…."
Select the payment option you'd like to use
Get your token (prepaid users) or receipt (postpaid users) sent you once payment is completed.
Quick tip: Saving your details on the app can shorten your bill payment process. Pay in just 3 clicks.
How to Use Other Buypower Mobile App Features
For other functions like checking your  meter consumption history or setting a reminder, simply;
Go on the homepage of the app (You'll see a welcome text on this page)
Click on the three dash icon located at the top of your screen.
You'll get a drop-down of other features on the mobile app.
Select on any of the options and follow the prompts you'll receive.
And that's all on the BuyPower App. It's that simple. Try it out and let me know what you think in the comment section below.
---
P.S: To share your thoughts with us, sign up for a free Disqus account. We'd love to hear from you in the comments section.

Did you find this post helpful? Sign up here and we'll let you know whenever we publish a new one.