How to Register Your Business Name in Nigeria, With the Corporate Affairs Commission
There's been a lot of inquiries from BuyPower Merchants (Check out BuyPower here) on how to register their business names with the Corporate Affairs Commission (CAC). Hence, we decided to release this guide for the benefit of everyone.

We encourage you to share this post with friends and family. Who knows, it could be all the direction they need to get started. We will go over this via two phases.

What is the Corporate Affairs Commission?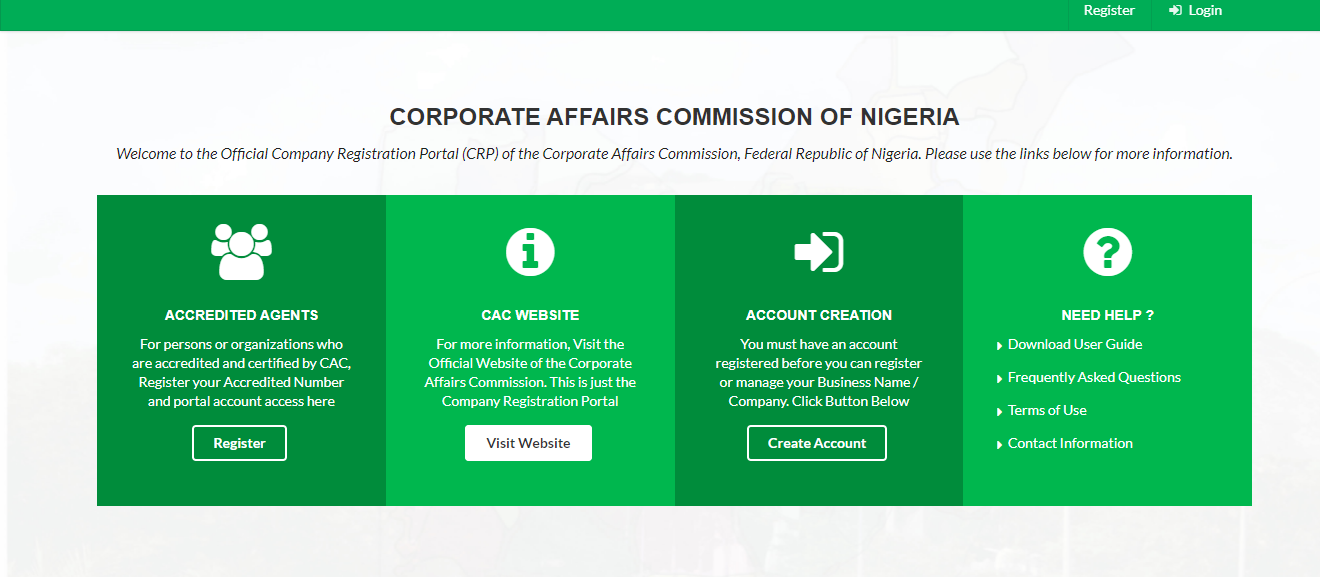 The Corporate Affairs Commission is a body of the Nigerian Government responsible for the regulation and management of companies in Nigeria. Before we explore how to register your business name with the body, there are advantages associated with being a registered business with the CAC.

Let's take a look at them.
Advantages of Registering a Business Name with the CAC
It improves customer trust in a business.
It introduces structure to a business.
It allows businesses to access certain premium features that are specific to each platform.
Registering businesses are required by Nigerian law.

How to Register Your Business With the Corporate Affairs Commission

Part One  

1. Create an Account on the Portal
First, there is a need to create an account with the commission. Head over to services.cac.gov.ng
To register. Required details include Name, Date of birth, gender, nationality, email and so on. A username and password would also need to be created.
Click "register"

2. Verify Your Account
After registration, a link to verify your account would be sent to your registered email address. You will need to do this on time as the link expires after 24 hours.

Once the account is verified, go ahead to login to your dashboard.

3. Now, Do a Name Search
A name search is required to know if a business name about to be registered has been registered or trademarked before, by someone else. If it has, it cannot be registered again. Hence, the registrar would need a new name.

Quick advice: At this stage, it is advisable to have more than one (proposed) business name in mind, so there are no surprises.

4. Reserve Your Chosen Name
After deciding on a business name to go with, the next step is to reserve that name (so another person does not snatch it from under your grasp). Here, the classification "Business name" has to be specified and the actual Business name too.

CAC reserves the right to disapprove any business name based on certain issues that are clearly spelled out on the reservation page. The reason for the search and nature of business would further be required and in the same vein, further personal details.

5. Pay for Reservation
Reservation of name is priced at Five hundred naira only (N500) and it can be paid online.


Part Two


1. Business Name Gets Approved & More Information
After payment for the reservation of the business name is made, it could get approved after some days. Then, the applicant would be prompted to provide more information e.g the primary business address, the names of the business owners and so on.

2. Pay for Business Name
Another payment of N10,000 would be required for the actual business name registration. Please note that the initial payment of N500 was meant for just reserving the business name, not for registration. The new payment is meant for registration.

3. Download, Print, Fill and Submit Form Six
After payment of the registration fee, a "Form Six" would be provided for the applicant to fill. The applicant should download this form, print it and fill in all the necessary details which might include passports, names, signature, and other vital information.

This form, after proper filling, should be scanned and uploaded back to a portal that will be provided.

4. Proceed to Collect Certificate
After a while, the business name certificate gets ready. An invitation will be sent to the applicant to visit the office and collect the certificate. Also required here include those documents that were printed and uploaded.

Once an applicant visits the office and collects the certificate, a registered business name is born.

Please note: If your business name reservation gets disapproved after the first episode, do reach out to CAC to know the exact reason and make proper changes.


Thank you for reading. Remember to share with anyone you think might need this - family, friends, colleagues and social media followers.