Here's How to Track Your Bills on BuyPower.ng
Tracking bills should always be on your list of To-Dos. In order to have a great financial life, dedicating a period/day to track and review your bill payments is a necessity. It helps to look at stuff in hindsight and make important decisions.
Decisions like improving how well Electricity is conserved, optimizing how much is spent on Electricity per time and more of those kinds of money-saving decisions. We want to make life much easier for everyone.
On BuyPower.ng, we have a feature that helps you properly track how much you've spent on Electricity since you have been using our platform. Our 'Transaction History' feature records every transaction a user has done on BuyPower.ng and does not miss any out.
What Does 'Transaction History' Do For You? See This
At BuyPower.ng, we build features that help to ease your electricity bill payment process. Hence, for every feature you see on BuyPower.ng, a lot of thought has gone into it from your [the user's] perspective and it is certified to be a plus to the whole user experience and interaction with the platform.
The 'Transaction History' feature automatically keeps a record of all your transactions with a particular phone number and sorts them from the most recent to the first. With important details like Token, the number of units, Meter number, date, cost of electricity and so on.
If you want to get your utility bill on Buypower.ng , you can check how to do this HERE.

Why Should You Care?
It helps you keep track of your TOKENS per transaction.
You get to see the history of all the transactions you have done on BuyPower.
It can help you audit your staff activities [this is relevant for Merchants].
With this feature, you can predict/determine, from previous purchases, how much you spend on electricity per a particular time frame.

How To Check Your Transaction History on Buypower.ng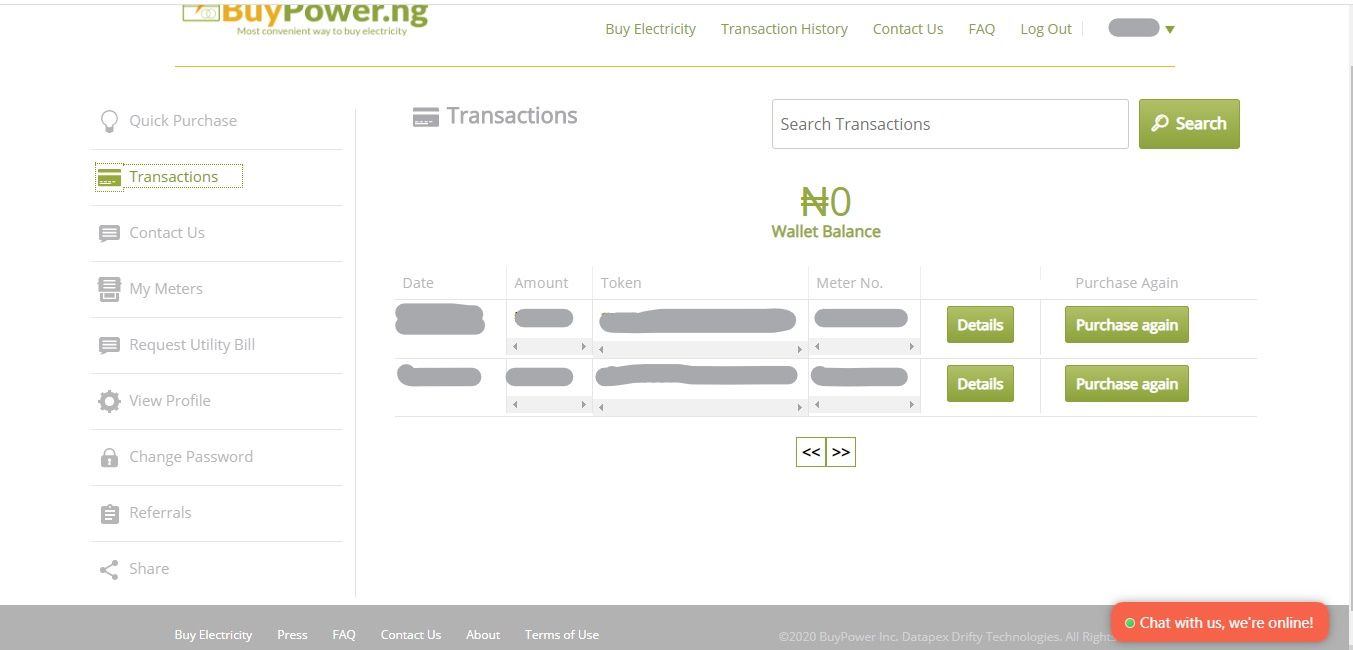 For Web:
While logged in, on the homepage, click 'click here to buy electricity'.
On the navigation bar slightly below the top right-hand corner, click on 'Transaction History'.
See all your transactions from the start till now.
For Mobile App:
On the homepage, simply click on "Order History".
That will take you to your transaction history.

OR
On the homepage, click on the three horizontal lines located at the top left corner of the app.
This should open a sidebar with numerous features.
Click on 'Transactions' among the different features.
Your transaction history displays.

If you want to check out your transaction history right now, CLICK HERE.
Please let us know if this article has been helpful in the comment section below.