3 Sure Ways to Borrow Electricity Online
In the past, there was nothing worse than running out of electricity in the middle of the night or during the weekends. However, with the advent of online utility providers like Buypower.ng, you can now buy electricity units at any time of the day without hassle.
But here's the thing, what happens when you're cash strapped or temporarily out of funds? We realize that the convenience we offer has some limitations but don't worry, we are always one step ahead.
Today, I'll be sharing three sure ways you can borrow electricity units online to get your power restored during emergencies.
How to Borrow Electricity Units in Nigeria
Regardless of whether you have a prepaid or a postpaid meter, there's something for everyone. Here are the ways you can borrow units for your meter during an emergency;
1. Using a Code
Did you know you could enter a code on your prepaid meter and get free five units? This is loan option is great for when you just need something small and quick.
Simply key in #414# and ENTER on your prepaid meter to borrow units.
The catch is that this code is only valid for prepaid meter users and can only be used once. What this means is that, after dialling it, you have to repay the borrowed five units on your next recharge to qualify for another loan.
2. Pay with Migo
Interested in borrowing an electricity token on a medium scale? Then you can get electricity online on Buypower.ng using the Pay with Migo option. This payment option applies to both prepaid and postpaid users.
Here's how to do this;
After completing your order and proceeding to the checkout page, simply click on the 'Buy Now Pay in 14 days' option.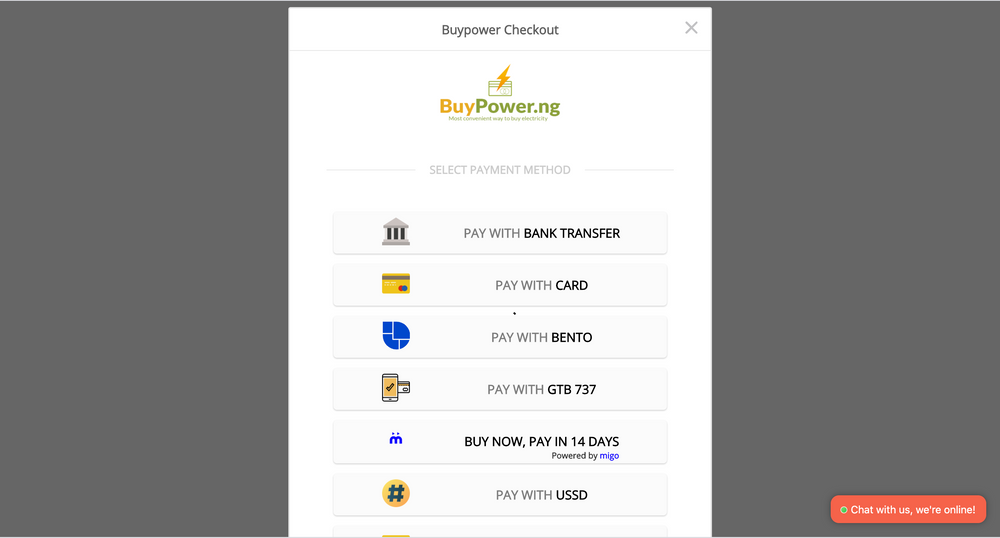 You of course have to pay back within the return window to avoid sanctions and penalties.
Tip: The more you buy electricity on Buypower.ng, the more units you can borrow so you should probably start building your credit now.
3. Pay with Bento
So what if you prefer paying your bills on a larger scale and you don't think the above options would work for you as much? As I said earlier on, we've got you covered. One of our recent partnerships allows you to pay for your electricity bills by accessing a salary advance. This particular loan option is perfect for when you have issues with your monthly budget or you need to make some adjustments.
To take this electricity loan, simply click on the 'Pay with Bento' payment option on the Buypower checkout page.
Please note that you have to be on a Bento payroll to access this feature.
So there you have it! Three simple assured ways to top up your meter without having to leave the comfort of your home. I hope this has been helpful. Do share with your friends and family members who will need this as well.
---
P.S: To share your thoughts with us, sign up for a free Disqus account. We'd love to hear from you in the comments section.

Did you find this post helpful? Sign up here and we'll let you know whenever we publish a new one.