Introducing the Buypower WhatsApp Bot!

Sometimes, your friend texts you out of the blues with a request to buy electricity for them. We know how inconvenient closing or minimizing your WhatsApp is. Especially when you have an interesting conversation going on.
At Buypower.ng, our primary focus is on providing convenience for our customers.

This is why we are excited to announce that our virtual assistant 'Simbi' is now on WhatsApp. With the WhatsApp bot feature, we are providing an alternative option to getting things done. Utility payments such as electricity bills, TV subscription, Airtime and Data are now one conversation away.

It doesn't just stop there, you can also get access to our customer support through this channel.

How to Use the Buypower WhatsApp Bot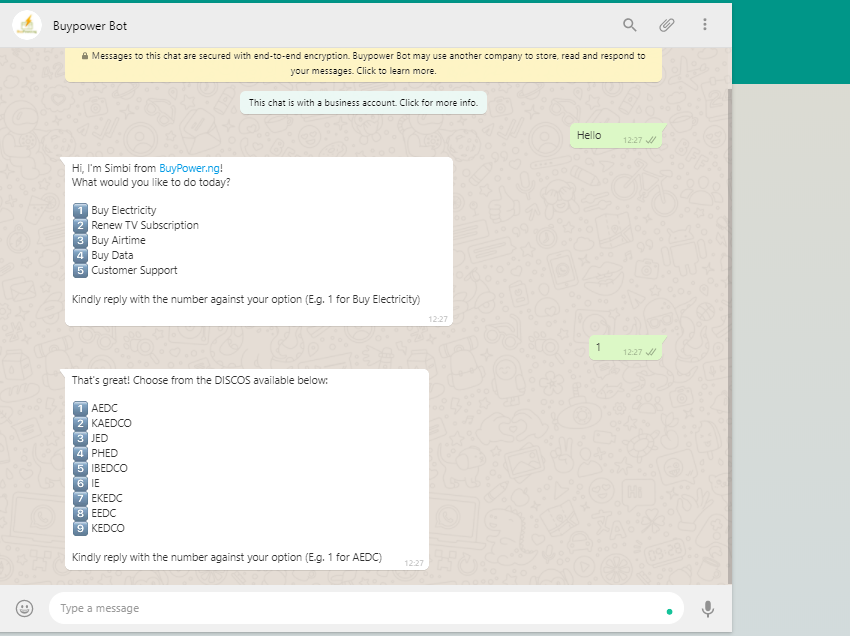 To start, simply add +234 810 627 6256 as BuyPower's Whatsapp Number to your contact list or alternatively, click this link to take you directly to the conversation.
Next, send a "Hello" text to the Whatsapp number above.
Follow the subsequent prompts you'll get.
Your token will be sent not only to the WhatsApp conversation but as a text and email as well.

Why is this payment channel important?
One word we have always laid emphasis on at the BuyPowerHQ is "convenience". For all we know, we exist so that our users get to carry out their daily tasks like utility bill payment in a very convenient fashion. Hence, this is very important.
A whole lot of people spend a considerable amount of time on the instant messaging app, WhatsApp. So we figured, why not bring our services to save everyone's time - most especially, our users. That's exactly what "convenience at your fingertips" mean yeah? Great.