All You Need to Know about the BuyPower Merchant App
One of the biggest platforms on BuyPower.ng is the BuyPower Merchants program. This is a service that lets business owners and SMEs use BuyPower to pay utility bills for their customers.
So if you have a lot of people who come to you to sort out their utility payments for them, you might be sleeping on a gold mine.
As a BuyPower Merchant, you get to pay bills for other people, get a cut from the service charge and a percentage as profit on each transaction. Now that's a juicy offer.
In this post, you'll learn all about the BuyPower Merchant app, how to download and use it for transactional utility payments. Stay with me.
What is the BuyPower Merchant App?
The Merchant app is a mobile application specifically designed to help merchants track and enjoy seamless utility transactions on BuyPower.
While the Buypower Mobile app is targeted at individual consumers,, the merchant app is a more appropriate channel created  for just BuyPower merchants. With this app, merchants are now their own eye in the sky.
Who can use the BuyPower Merchant App?
Any registered BuyPower Merchant can use the merchant app for transactions.
Can I register to be a BuyPower Merchant through the Merchant app?
Yes you can register to become a merchant through the app. Simply click on the "Apply" button and fill the application form.
If you'd like to speak to our head merchant for further inquiries before registering, or speed up your application process, simply send a WhatsApp message to Victoria here to indicate interest.
What are the features of the BuyPower Merchant App?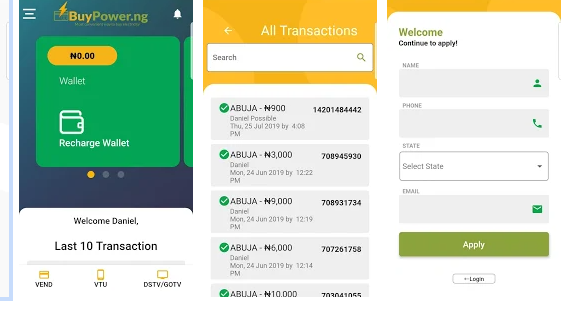 The BuyPower Merchant app is quite similar with the BuyPower mobile app as both offer a seamless way to make utility transactions. However the merchant app differs in certain features because it's tailored for commercial transactions.
Here are a few of these features;
1. An avenue to pay for other utilities like DSTV/GOTV and Airtime(VTU).
2. An 'All Transactions' page where you can see all transactions you make online. This is really helpful for tracking transactions, especially as you scale and begin to hire employees to manage the business.
3. A Print option to print out transaction receipts for your customers
4. A wallet which acts like your BuyPower account. This is where payment for each transaction is deducted from. So, you'll have to constantly fund this account for your transactions
5. A cut from the service charge and a commission on each transaction you carry out. (Also note that commission rates are different for each disco.)
How to download the BuyPower Merchant App
Currently, the BuyPower Merchant App is only available for android. To download the BuyPower Merchant App,
Simply go on Google Playstore.
Search for 'BuyPower Merchant App' and tap on 'install'.
Or click here to take you directly to the app on playstore.
How to use the BuyPower Merchant App for utility payments
Login to the app with your registered merchant phone number and password.
Select what type of transaction you'd like to make (Vend which is electricity, VTU which is airtime and DSTV/GOTV).
Fill in the transaction form by selecting state, typing the meter, phone or decoder number and amount.
Review the order and complete payment with your merchant wallet.
Go to the all transactions page and click on the transaction. Scroll to the end and print out a receipt for your customer.
I hope this article has been helpful. We can't wait to make utility payments easier with you. Do share this post with your friends and family who'd find this useful.
---
P.S: To share your thoughts with us, sign up for a free Disqus account. We'd love to hear from you in the comments section.

Did you find this post helpful? Sign up here and we'll let you know whenever we publish a new one.