Our Year 2020 Review: Even the Pandemic Could Not Tear Us Apart
Through the panic, the speculations, the rising cases, loved ones we lost, the lockdown, the many zoom meetings, being isolated alone, being isolated with family, the endless days of wearing pyjamas, the ease of the lockdown, through the nationwide unrest, and the peace that came with ending such a tumultuous year, we ensured that we were always one tap away.
Thank you for sticking with Buypower.
Welcome to 2021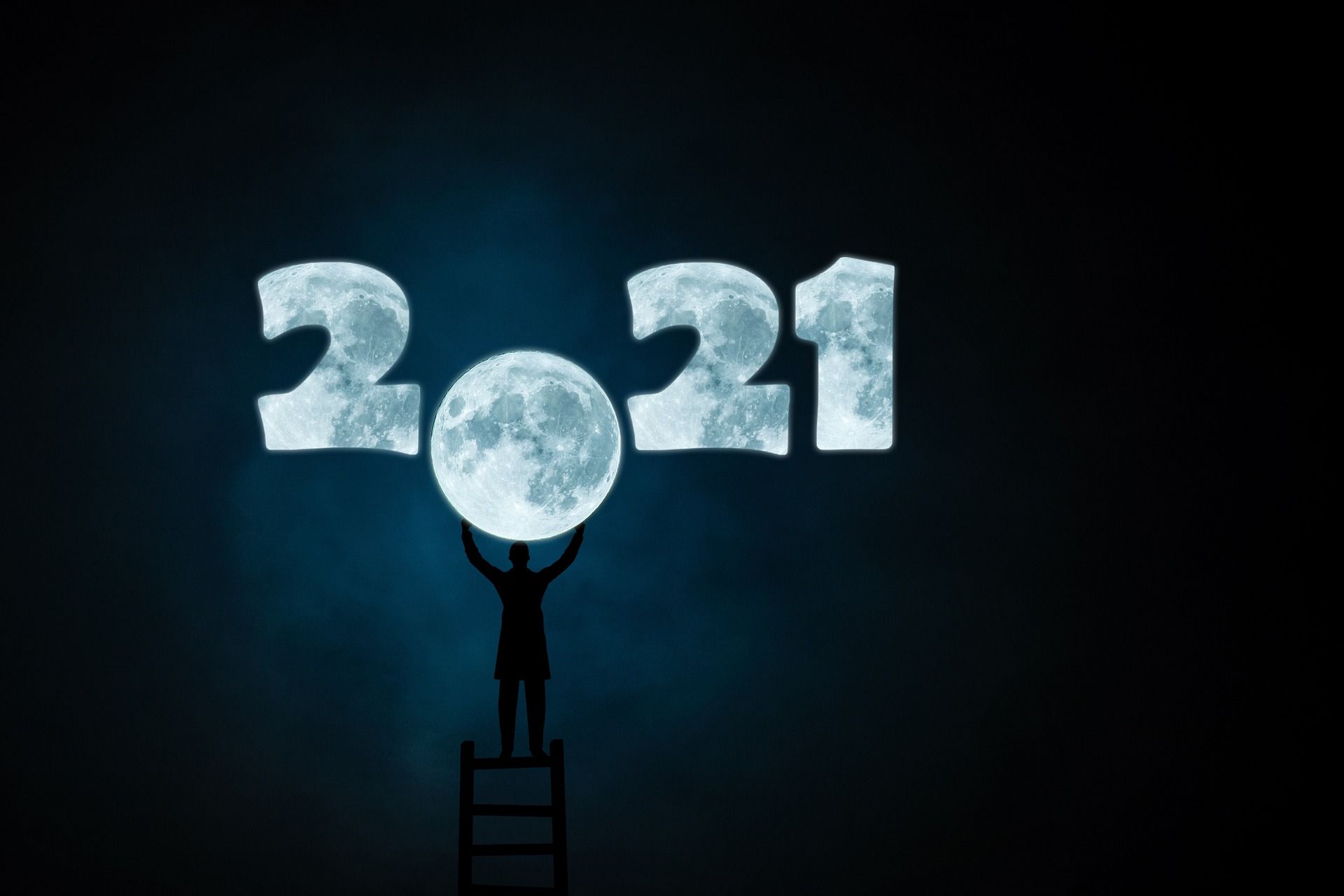 One of our biggest traditions at the Buypower HQ is taking a deep reflection at the beginning of the year. We try to discover the things you loved about us and the things you didn't like as well. All in a bid to find new ways to serve you better.
Today, we'll be sharing a detailed account of the year 2020.
I know, I know. Many of us just want to put that entire year behind us and focus on the fresh slate the new year offers. However, tough times make us stronger through the lessons we gain from it.
And because we value you more than anything else in the world, we want to have this year's reflection with you.
Here's what happened in our 2020
Our First Quarter
The beginning of the year was filled with so many expectations. From setting multi-level meetings to identifying optimization points for improving the Buypower product. We set goals which were badass except we didn't foresee some of the turnarounds this particular year had in store for us.
In a bid to focus more on ways to improve all areas of our services, we expanded our working space to accommodate the department in charge of monitoring, optimizing and recommending improvements on the product - Product Growth and Marketing Team.
However, due to the rise in COVID-19 cases and the impending lockdown at the time, our entire team had to go fully remote in order to keep up with the COVID-19 guidelines. This was the beginning of what would be a  9-month remote working experience for all teams.
We Got the Most Loyal Customers One Could Only Hope for
Asides from the pandemic, there was a change in the tariff system. Currently, the country operates on a service reflective tariff system which was announced shortly after the federal government removed the subsidy on electricity tariff. This affected the prices of electricity across the country.
However, you and many of our other customers stuck with us through the changes. We appreciate and value this loyalty.
Our Customer Support Team Were Relentless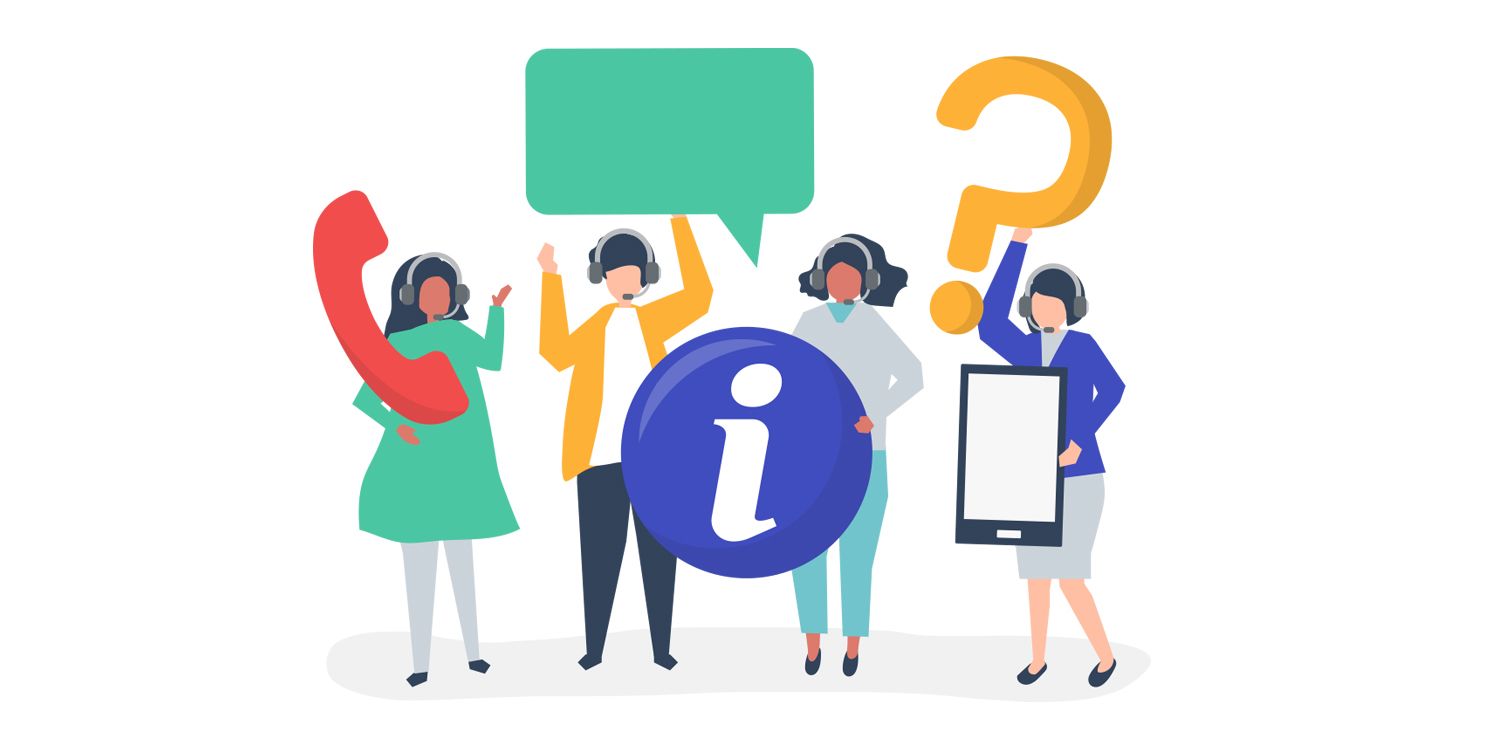 If our SEAL team did a good job in 2019, then they did a really great job in 2020. For context, the SEAL team is the customer support team that talks to you on a daily basis and resolves whatever issues you encounter while using our product. We pledged to improve support for our customers last year and we did exactly that!
We launched our conversations page that availed our users with the many available support channels on the platform. From our revamped Live Chat feature to the new WhatsApp support channel, we sought out ways to provide extra convenience for all our users along with a faster way to reach our customer service team.
Something even better is cooking and we cannot wait to launch soon (fingers crossed).
Taking on the World with Our Verticals Launch
One of the biggest highlights of our year was launching a new vending system focused on improving the ease at which estates and communities pay their electricity bills.
Amazing Products and Improvements
So we know that continual product optimization is the only way to keep up with our customers' ever-growing needs. And in 2020, we made many product improvements to accommodate these needs.
Here are some of the other features we added;
The Outstanding Feature: You can now see if your meter has an outstanding debt with your distribution company before making a payment on the Buypower platform. This feature is available to all Buypower users. You can read more on how to utilize this feature here.
Pay with Bento: We partnered with Bento to provide a new payment option for our customers who use Bento. With this payment option, our customers can buy electricity at any time of the day using an advance from their Bento Payroll.
The Buypower Blog: Product education is one of the methods we are employing to ensure that our customers tackle inconvenience before it becomes an issue. So to create several self-help guides, we revamped our Blog. You can now access materials on how to use several Buypower features, solve meter errors, upscale your business and general electricity tips.
Revamped User-Friendly Website!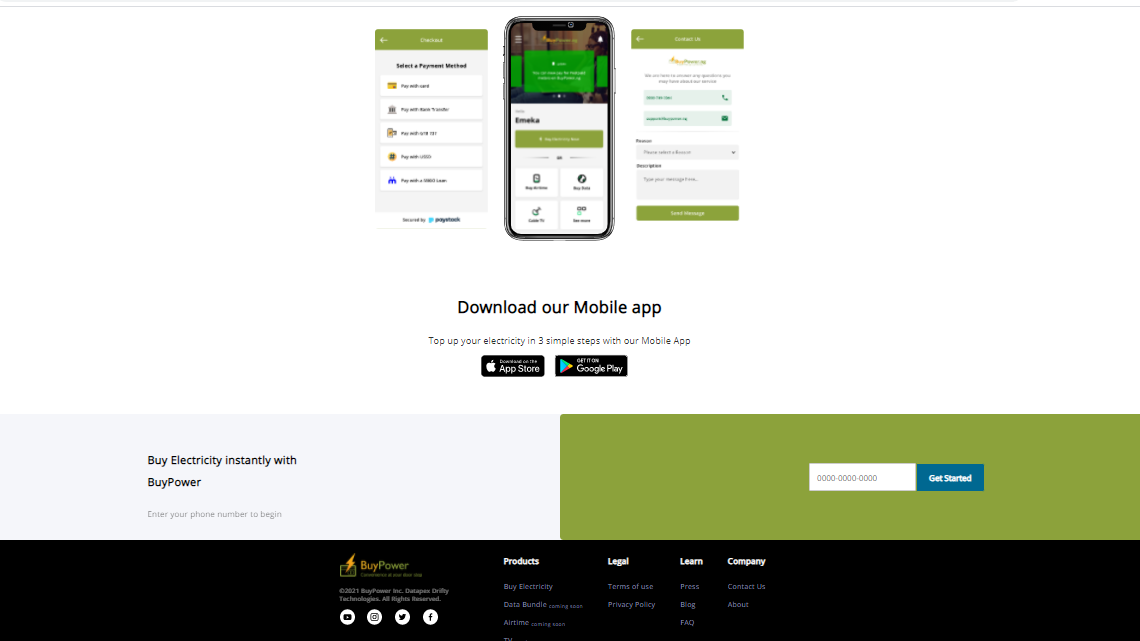 To provide a better user experience, we realized that our website needed a fairy god-mother or in this case, god-father touch. So we did just that. This current website conveys our value proposition, testimonials, has an about page and many other amazing feeds.
And most importantly, it is easier to navigate through.
We Got the Best Talents
Growth is the result of forces working together. To achieve this growth and continually provide you with the convenience you signed up for, we got some of the best talents last year.
We welcomed Tunde, Farouk, Maruuf, Bolu, Sadiq, Victor Olamide, Azeez, Al-Ameen, Ebenezer, Peter, Dayo, Udori, Doris, Akudo, and Olayemi. We hope to meet you all in person soon.
Giveaways Were in Abundance
With the increase in tariff plans and our ad on Big Brother Naija Lockdown Edition, we decided to reward some of our loyal customers through a giveaway.
At the end of this giveaway, 97 valued customers got a free N5000 worth of electricity units and an additional 3 customers got free electricity plans for two months.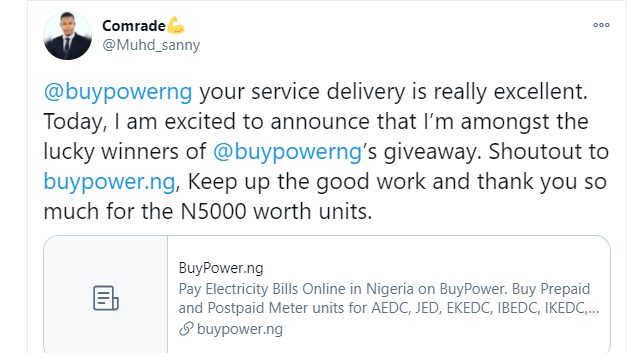 You might want to be on the lookout for more juicy offers on our social media pages this year.
2021?
While 2020 was a tough year for us, it wasn't really all that bad. This year we are better prepared to make your experience on our platforms easy and convenient. We will be unrolling some features and announcements about this soon.
Keep using www.buypower.ng and stay on top of the best there is.
Cheers to a better year!